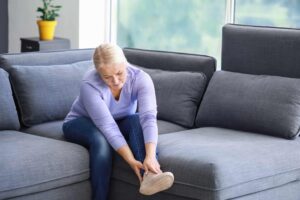 This is an important message for women over 40…whether that's you or someone in your life.
There are two extremely common genetic foot conditions in women over 40 we see every day. Most days we'll see this condition multiple times.
Amazingly, neither of them occurs because of an injury.
If they are left untreated…long-term pain and deformity can result.
The first is around the toe next to the big one (we call it the 2nd toe) and the ball of the foot.
Women will come in concerned about pain, mainly on the ball of the foot. It can feel like you're walking on a ball or something "bunched up." Sometimes there is swelling on the top of the foot near the 2nd toe.
The more pressure you put on the ball of the foot the greater the pain. Many women have to stop exercising because of it.
If left untreated the 2nd toe can become deformed and start moving toward the big toe. If this happens, surgery may be the only solution.
The most important thing to know is that getting this diagnosed and addressed as early as possible can avoid serious long-term consequences and even surgery.
The second condition occurs on the inside of the ankle into the arch of the foot.
Pain and swelling are the symptoms. This condition is often missed by Urgent Care Clinics and most Doctors who don't specialize in the foot and ankle.
Since this condition involves a MAJOR tendon, the longer it lasts the higher the chance of the arch collapsing.
There is an easy diagnostic test we can do in the office to determine if this condition exists. If so, treatment is started immediately to help avoid a serious problem.
Again, the sooner any foot or ankle pain is addressed, the greater the chance of avoiding surgery and long-term consequences.