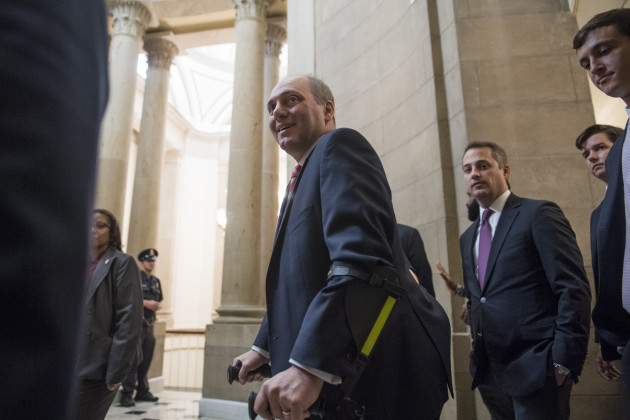 Back on his feet and thankful to be alive Rep. Steve Scalise (R-LA - pictured above) was shot in the hip on June 14, 2017, shattering his femur and damaging his pelvis. It happened during a practice with fellow House Republicans at a Virginia field in the run-up to an annual congressional baseball game.
The Louisiana representative – who was the second baseman that day – said that after he was shot, he had no clue how life-threatening his injuries truly were. His body went numb and his thoughts turned to his God and his daughter.

Luckily for him, a fellow player on the field that day was Rep. Brad Wenstrup (R-OH). Rep. Wenstrup former life was 24 years working in the clinic and in the operating room as a podiatrist.
At the age of 40 he felt the need to join the Army reserves and found himself on tour in Iraq as a podiatric trauma surgeon. While in Iraq, after a close military friend was killed by a mortar round, he decided he wanted to do something more. Ultimately he set his sights on Congress and was elected in 2012 serving as a representative since.

It was lucky he was there that day with the training and experience he had learned in a life of podiatric medical practice.

"I did what I did in Iraq," Wenstrup told ABC News. "You assess their wounds, and you cut down their clothes and look for the wound and make sure that you stop the bleeding."

He made sure Scalise was conscious by asking him where he was and asking him to count. Scalise was in pain and "was losing a lot of blood," Wenstrup said.

Like those that so bravely helped the woounded in Las Vegas this last week, our hats go off to Rep. Wenstrup for his bravery and a job well done.

Read more of the story by following this link
http://www.cincinnati.com/story/news/politics/2017/06/14/enquirer-archives-brad-wenstrup-doctor-iraq-vet-congressman/395757001/
60 minute report of Rep. Scalise's ordeal and recovery
https://www.cbsnews.com/news/rep-steve-scalises-little-miracles/
Contact us if you are in Montana or Wyoming and would like to see a doctor about foot care.