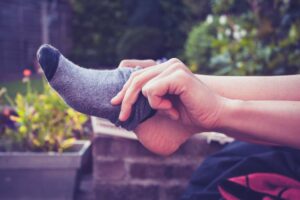 New technology has invaded our homes and offices. It has become essential in how we correspond with one another, how we drive our cars, and even how we stay warm in the winter. Even the socks we wear have undergone transformations that relate to technology.
New technology has made fabrics healthier, more comfortable, and better looking than ever. Using fabrics like synthetics and polyester blends and getting away from cotton can help keep feet dry, leaving them comfortable and blister-free.
Since your feet and legs spend several months of the year covered in footwear, it is essential to choose the right sock for your needs. From fabric to fit, making sure your footwear has all the latest features is key.
Here are some tips to choose socks that are right for you, and the occasion:
A sock with a poly/cotton blend, incorporating cotton and synthetics is an excellent option for everyday wear. Opting for either a thick or thin sock will not affect the health of your feet!
Socks should fit like a glove. There should be no loose fabric around the toes or heels. Socks that bunch up can cause friction and lead to blisters. Socks that are too tight can decrease circulation and comfort.
If you have diabetes or decreased circulation, seamless socks are now available to prevent friction that might result in irritation.
Athletes should look for socks that wick moisture away from the foot. The best material is a cotton/polyester blend which will provide an excellent comfort level, great wear, and moisture absorption.
All socks should be tried with the appropriate shoes. Do not try your running socks on with your dress shoes-- that's a recipe for buying the wrong socks.
Ask your podiatric physician for recommendations. The technology involved can be overwhelming, but your foot doctor can provide you with the appropriate guidance that matches your activities.